TouhouMino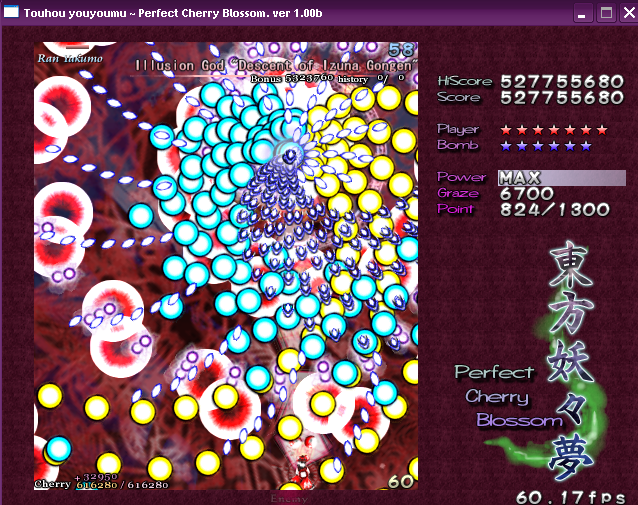 TouhouMino is a modification of NullpoMino's marathon gamemode. TouhouMino is based on Touhou Project an extremely popular series of vertical shooting games of the "bullet hell" or "curtain fire" variety, also known as "danmaku." The series is best-known for its beautiful bullet patterns, seamless story development, and intriguing character interactions.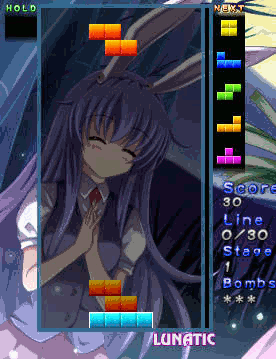 The game consists of stages where you can score points without worry, and bosses with spellcards who "attack" or disturb your field. You may use your own spell card (bomb) chosen at the start of the game to try to score more points or clean up your field. Normal Spell cards may be captured by clearing enough lines before the timer runs out without using your own spellcard, and give a bonus that decreases as the timer runs down. Survial spellcards may be captured by lasting until the timer runs out without using your own spell card, and give a bonus based on how much you scored while the timer is running. There are 4 difficulties, each with its own ending.
[2019-08-07] I've made an official discord and might get back into adding/improving this game! https://discord.gg/y9Wz3HU
[2016-10-29] I've fixed some issues on the netplay of touhoumino multiplayer. I might update the 1.17 to 2.00 soon if I don't see any other issues!

Welcome to the official TouhouMino website! I hope you enjoy your visit, there's not much yet but I'm working on it! You can join the official steam group by clicking the link below. You can also contact me at [email protected]
Steam Group
Official Discord